Early morning commuters threading their way through London's corporate heartlands might have noticed this phenomenon: charity staff cheerfully accosting bewildered company employees, lobbying for their vote in that company's Charity of the Year contest. Guerrilla costumes, free coffee and blunt campaign messages all deployed to get enough traction to make a name or cause stick.
Companies have on the whole put a stop to this. But from a charity perspective, with only a few seconds to catch people's attention they get straight to the point with graphic images and language. This naturally elicits an emotional response from the target audience. If it lasts long enough it results in action. John, the systems analyst in IT, takes his free coffee, votes for the children's charity and then gets on with his life.
But what does that tell me about the company John works for? Other than that they're a little bit generous or have worked out how to write-off charitable donations, not a thing. What a waste. More and more employees and customers are gravitating towards brands that resonate with their own personal values. To (mis)quote Milton Friedman, the business of business is no longer just business. Like all good problems, this presents brands with a fantastic opportunity:
1) How does your corporate responsibility (CR) and sustainability activity align with your brand? If you don't know, how will your employees and customers?
2) How do you authentically communicate this and how do you make it relevant to your target audiences?
3) Where are the creative opportunities to bring this to life and make everyone involved in your CR and sustainability sit up and pay attention to what a great company they work for/do business with/ supply paper clips to?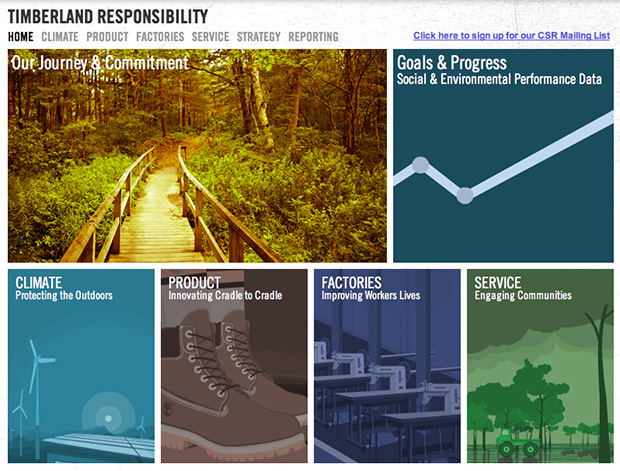 Some examples:
• Toronto, 2009: cuts resulted in the cancellation of free new year's eve public transport. Molson Coors stepped in as the cornerstone sponsor to pick up the tab and bring home their message of drinking responsibly and catalysing social situations.
• In a hyper-competitive employment market, how do you get the edge in attracting the right talent?
Accenture talks about their organisation as a workplace where people can reach their full potential. In 2013 they proved it by being named as 'employer of the year' for lesbian, gay and bisexual staff. A consistent message brought to life through internal comms which travels way beyond the company walls.
• Research shows that a majority of consumers will generally say social responsibility is important in the companies they buy from. Experience and heresay shows that if it isn't made easy, it suddenly becomes much less important.
Timberland are already well known for promoting ethical practice but have taken it a step further by introducing the 'Timberland Responsibility' portal, 1 click from the company home page, supporting their message of transparency and integrity. They're making it very very easy for customers to practice what they preach.
At heart, this is all about aligning brands with initiatives that fit their values and then communicating it well through their messaging. What is your brand essence and how do you make sure it's communicated clearly, relevantly and effectively to each of your audiences?
Written by Neil Gilbert, Corporate Client Services Director